Capt. Elisha Baker [2739]
(1751-1833)
Capt. Elisha Baker [2739]
Died: 1833, Massachusetts at age 82
Buried: 1833, South Yarmouth, Barnstable County, Massachusetts 4


Noted events in his life were: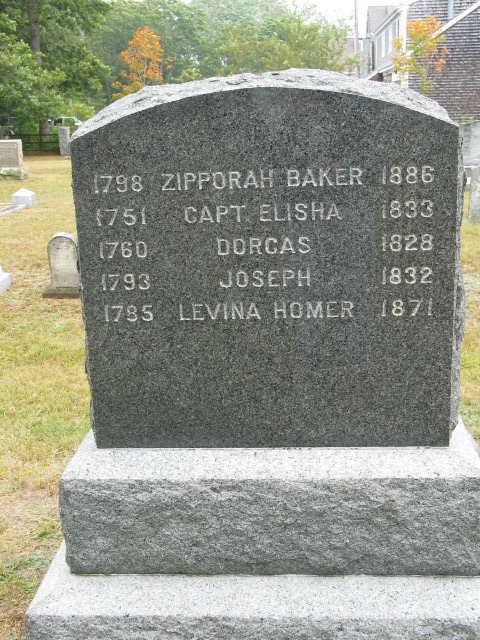 • He was buried at the South Yarmouth Baptist Church Cemetery in South Yarmouth, Barnstable County, Massachusetts in 1833. Old Main Steet and Wood Road, South Yarmouth. The Baptist Cemetery surrounds the Bass River Baptist church which was built in 1824



Elisha married Dorcas Matthews [2788] [MRIN: 1052] on 6 Apr 1780 in Yarmouth.1 2 (Dorcas Matthews [2788] was born about 1760, died in 1828 in Massachusetts 5 and was buried in 1828 in South Yarmouth, Barnstable County, Massachusetts 4.)

Sources
---
1 Cape Cod Library of Local History and Genealogy, vol II pg 1127.
2 (Dodd, Jordan, Liahona Research, comp.. Massachusetts Marriages, 1633-1850 [database on-line]. Provo, UT, USA: MyFamily.com, Inc., 2005. Original data: With some noted exceptions all marriage records in this collection can be found at the Family History Library in Salt Lake City, Utah, and may be available through Family History Centers throughout the United States. See table below for information listed.

Description: This database is an index to approximately 838,000 individuals who were married in select areas of the State of Massachusetts, USA, between 1633 and 1850. Information that may be found in this database for each individual includes their name, gender, spouse's name, marriage date, marriage location, and source information.), Name: Darcos Mathews Gender: Female Spouse: Elisha Baker Marriage Date: 6 Apr 1780 City: Yarmouth County: Barnstable Source: Family History Library, Salt Lake City, UT, Film # 0945512.
3 J Montgomery Seaver, Baker Family Records (American Historicail-Genealogical Society), J154 p 38.
4 www.capecodgravestones.com, http://www.capecodgravestones.com/syarbap.html.
5 Mayflower Sources, p 696.

---
Home | Table of Contents | Surnames | Name List
© Copyright 2010 Charles T Baker
This Web Site was Created 21 Feb 2010 with Legacy 7.0 from Millennia