Zeno Elijah Baines [3808]
(1914-1937)
Zeno Elijah Baines [3808]
Born: 7 Dec 1914, Virgina 1
Died: 29 May 1937, Suffolk City, Virginia at age 22 1
Buried: 1937, Suffolk, Southampton County, Virginia 1


Noted events in his life were: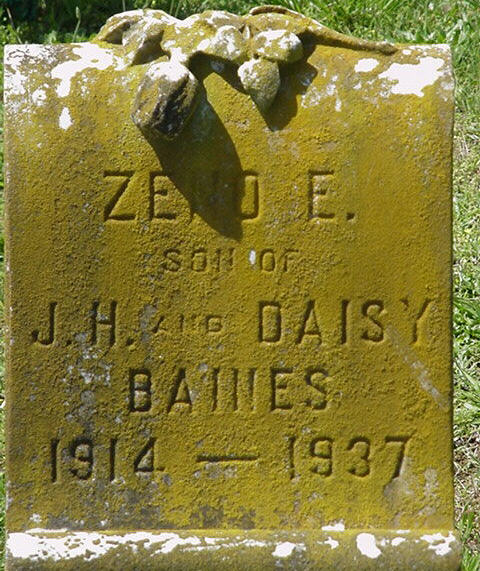 • He was buried at the Joseph Hurley Baines Cemetery in Suffolk, Southampton County, Virginia in 1937. 1 2

Sources
---
1 www.findagrave.com, Memorial# 30421708.
2 James O Baines and Kim Baines Wallace (May 20, 2003, Joseph Hurley Baines Cemetery, Greenway Road, Suffolk, VA 23434. http://www.usgennet.org/usa/topic/cemetery/virginia/cemeterylists/josephhurleybainescem.htm and C: Hurley Baines Cemetery.pdf).

---
Home | Table of Contents | Surnames | Name List
© Copyright 2010 Charles T Baker
This Web Site was Created 21 Feb 2010 with Legacy 7.0 from Millennia