Crowell Baker [4138]
(1790-1849)
Crowell Baker [4138]
Born: 16 Sep 1790, Yarmouth, Barnstable County, Massachusetts
Died: 9 Jan 1849, Yarmouth, Barnstable County, Massachusetts at age 58 3
Buried: 1849, South Yarmouth, Barnstable County, Massachusetts


Noted events in his life were: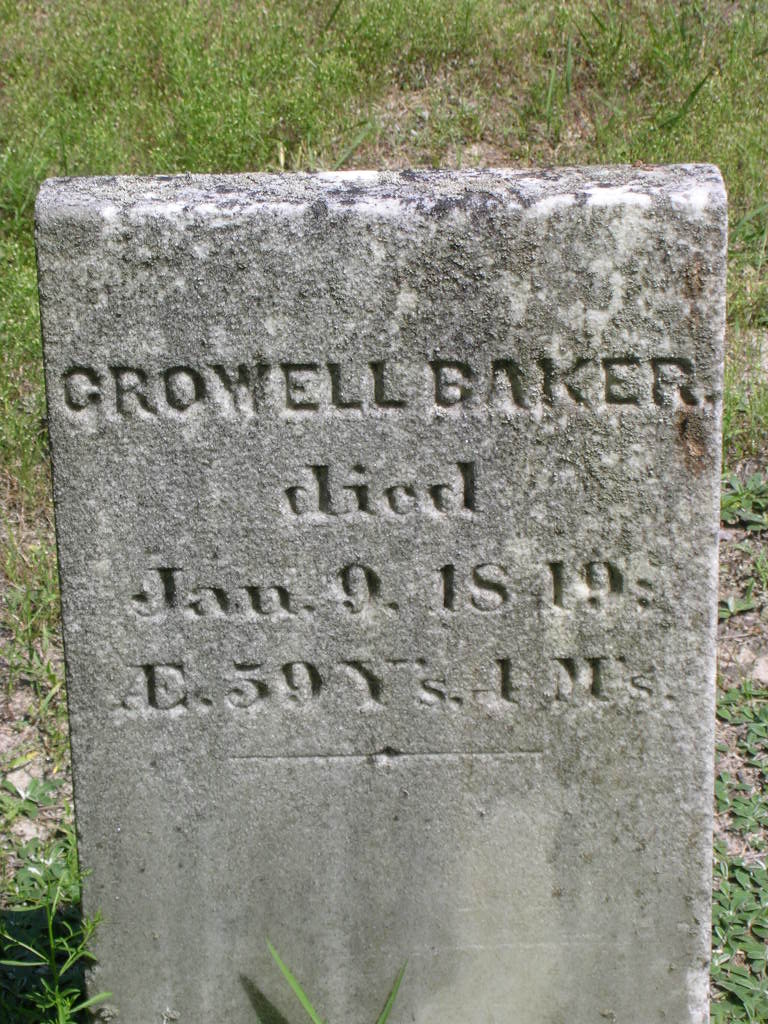 • He was buried at the Methodist Episcopal Church Cemetery in South Yarmouth, Barnstable County, Massachusetts in 1849. 4 Inscription: Crowell Baker died Jan. 9, 1849 A.E. 59 Y's, 4 M's




Crowell married Anne Baker [4139] [MRIN: 1493], daughter of Prince Baker [2775] and Mercy Baker [2776], on 28 Oct 1809 in Yarmouth, Barnstable County, Massachusetts.1 2 (Anne Baker [4139] was born on 27 Nov 1793 2.)

Sources
---
1 (Dodd, Jordan, Liahona Research, comp.. Massachusetts Marriages, 1633-1850 [database on-line]. Provo, UT, USA: MyFamily.com, Inc., 2005. Original data: With some noted exceptions all marriage records in this collection can be found at the Family History Library in Salt Lake City, Utah, and may be available through Family History Centers throughout the United States. See table below for information listed.

Description: This database is an index to approximately 838,000 individuals who were married in select areas of the State of Massachusetts, USA, between 1633 and 1850. Information that may be found in this database for each individual includes their name, gender, spouse's name, marriage date, marriage location, and source information.)
2 (Randall, E.K. (1962). David O'Killia the Immigrant of Old Yarmouth, Massachusetts with his Descendants and Allied Families, 1652 - 1962. Unknown: Unknown.
From the Quintin Publications Collection), Pg 196.
3 Cape Cod Library of Local History and Genealogy, Vol II pg 1142.
4 www.findagrave.com.

---
Home | Table of Contents | Surnames | Name List
© Copyright 2010 Charles T Baker
This Web Site was Created 21 Feb 2010 with Legacy 7.0 from Millennia